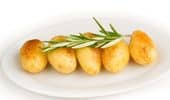 Use as part of a tapas selection or a tasty family dish.
Serves 4-6
700g small roasting potatoes, washed
¼ cup lemon curd
14 cloves garlic, peeled
rosemary stalks for garnish
Preheat oven to 200ºC.
Place potatoes in a baking dish, add lemon curd and toss.
Add garlic and 1 sprig of rosemary.
Roast in preheated oven, turning frequently until potatoes are golden and crisp, and tender when pierced with a skewer.
Remove from oven and serve garnished with rosemary sprigs.
For other tapas dishes view this poster.
Nutrition Information Panel
Per Serving [6 Serves]
Energy
699 kJ
Protein
4g
Total fat
– saturated fat
3.2g
0.9g
Carbohydrates
– sugars
28g
8.8g
Fibre
5.3g
Gluten
0g
Sodium
26g
Gluten Free